ICONOCLAST Secrets

Polyrhythms
"Flan is like a woman" (track 21 on Paradise) is a composition that is fun to describe from a polyrhythmic standpoint. In the middle section Leo plays a rhythm in seven on the bass drum.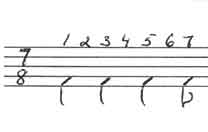 with a four (quartuplet) on the hi-hat on top of the seven (with a snare on the second and a floor tom on the fourth beat of the four).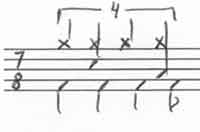 Julie plays a melodic line which is 5 over 3 of Leo's hi-hat beats



So in other words, it's a five over three of the four over seven.